Section 1: Epidemiology and aetiology
Alzheimer's disease is the most common form of dementia. Its differential diagnoses include normal ageing, other dementias, symptomatic confusional states and mood disorders.
Most people do not wish to be thought of as old and incapable, and Alzheimer's disease can be more feared than cancer.
Some aspects of intellect, memory and personality alter when people pass 70 years of age, even when they are free of brain pathology. Assimilating new ideas is more difficult and takes longer.
Dementia is a clinical concept: 'a syndrome characterised by acquired global impairment of intellect, memory and personality without impairment of consciousness'.1
Dementia is a relatively rare condition affecting only one in 100 people of all ages,2 but it becomes progressively more common in old age (see table 1). In the UK, 15,000 people under the age of 65 have dementia.
In 2014 it was estimated that around 831,000 people in the UK aged 60 and over were living with dementia. This was projected to increase to 975,000 by 2020 and 2m by 2050.3
Although age is the strongest determinant, genetics may also play a part. Early-onset dementia often runs in families and late-onset Alzheimer's disease is associated with the apolipoprotein ApoE.4 Age and genetics offer little scope for intervention.
Risk factors for vascular disease, such as hypertension, diabetes, smoking, obesity and hyperlipidaemia are all associated with a high incidence of dementia of both Alzheimer's and vascular types.5 This encourages early detection and possible prevention.
Head trauma and excessive use of alcohol and other psychoactive substances increase the likelihood of dementia, as do inflammation and stress or trauma. All of these can be avoided or limited in their effects.
Section 2: Making the diagnosis
Dementia usually begins quietly and progresses insidiously. The individual may notice nothing and reject advice as unnecessary fuss.
Sometimes onset is sudden. Symptoms often vary over time. Some people have a troubling awareness of their failing competence. Anxiety, depression, sleep disturbance, illusions, hallucinations and delusional beliefs can occur.
The key is to be aware and to ask routinely about memory when seeing older people. Listen to other witnesses, who will often become partners in care and therapy.
Special care may be required when people are of a different culture or are not English-speaking. Learning disability can be mistaken for dementia,6 as can other mental illness, especially depression,7 or deafness.8
Symptomatic confusional states (delirium) characteristically appear suddenly, with clouded consciousness and changeable, florid symptoms, but a dementia syndrome may be symptomatic of underlying body or brain disorder, or toxicity from a prescribed or self-administered medicine.9 Careful assessment and investigation are vital.
Diagnosis is a function of history and examination of physical and mental state, including simple tests of cognition.
Additional investigations, such as blood or urine tests, X-rays and other scans, may be necessary. Diagnosis of the clinical syndrome is straightforward and is the first step in a programme of treatment and care.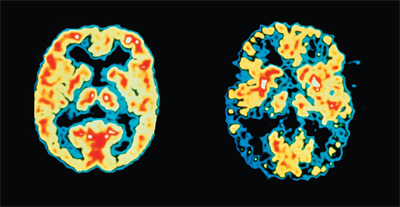 PET scan showing activity in a normal brain (left) and Alzheimer's disease


Alzheimer's disease needs to be differentiated from the other common dementia illnesses, vascular dementia, Lewy body dementia and frontotemporal dementia.
Changes to the brain
Brain changes in Alzheimer's disease are similar to those in normal elderly people, but more severe.
The brain is smaller in weight and volume. The hippocampus shrinks and plaques and tangles appear and spread to the cerebral cortex, which becomes thinned and more ridged.
Generation of abnormal proteins, which form amyloid plaques, underpins subsequent pathological change. Neurotransmitters, particularly acetylcholine, are diminished. Differentiation between Alzheimer's disease and vascular dementia may not be absolute, because both include pathology of blood vessels. Mixed dementia is common, especially in people over 80 years of age.
Section 3: Managing the condition
The National Dementia Strategy envisages everyone with possible/probable dementia being referred to a memory clinic for specialist assessment and advice.10
There are good examples where this is happening,11 but less than half of the predicted prevalence of dementia is recognised overall although this is improving with recent initiatives.12
Owing to the current rate of referral to secondary care memory clinics, there are unacceptable waiting times and questions over the contribution of these clinics to long-term treatment, care and support.11
Some discuss the advantage of triage, with referral to clinics limited to severe or complex cases. Our view is that most patients can be assessed and managed optimally within primary care, supplemented by specialist expertise.13
There are patients with rare, unusual or complex presentations who benefit in the short term from additional facilities and expertise within a secondary care setting. Most will continue to receive support in primary care.14
Other centres are exploring alternative approaches to enhanced assessment, treatment and support in primary care.15,16 Such formulations have advantages in keeping the patient within their 'comfort zone' of the usual and preferred place of care. Dementia is kept in context. It is often one of several pathologies that require treatment and monitoring within the practice.
Dementia champion
The designation of someone as the dementia champion within the practice team is invaluable. It ensures the best use of everyone's time and skills, satisfies patients and families, and is the channel for personalised, integrated care, with the involvement of other agencies as needed.17
Medication
Medication for Alzheimer's disease (acetylcholinesterase inhibitors and/or memantine18) is helpful in some cases. Taken overall, the impact of these drugs is modest and valued by relatively few patients.19 Their use is probably best overseen by specialists. Prescriptions with an agreed, shared protocol will suit most situations.
The cost-benefit analyses have changed owing to the reduced price of cholinesterase inhibitors, which are no longer under patent.18 Unwanted effects are few but include the potential for cardiac slowing and dysrhythmia, and GI upset.
Antidepressants may be effective when mood is low, although a recent trial had disappointing results.20 Treatment of agitation, anxiety or paranoid symptoms may require the cautious use of low-dose antipsychotics, despite their unwanted effects.21 Their prescription beyond a short time should always be subject to careful, regular review.
Section 4: Prognosis
Continuing requirements include attention to physical health and maintenance of support from family and friends.
Carers may be stressed; their needs must be addressed. Social services or voluntary sector supplements should be arranged if needed. Support groups, day care, specific therapies or respite care can be useful. Counselling is recommended.
Hospital admissions are stressful and can be counterproductive. The practice and the family should contribute to the care plan and arrangements for aftercare.22 Patients with dementia admitted to care homes must be recognised and their care and treatment reviewed.23
Life expectancy is reduced and dementia may contribute to adverse experiences at the end of life. Hospices are beginning to extend palliative care to those with dementia.24
Section 5: Case study
Clara was in her early 70s. A little overweight, she had developed type 2 diabetes and was a regular at the practice.
She and her husband Paul had lived locally for many years. At a routine contact, Paul mentioned that Clara sometimes appeared muddled. She could no longer cook or shop competently.
Clara had no insight into these changes and they resolved their differences in gentle banter.
The practice's elder care facilitator (ECF) saw them at home and completed a review of Clara's history and current symptoms according to the practice protocol.
Memory clinic
The ECF arranged an appointment at the next memory clinic with the visiting consultant, ensuring routine bloods were taken to identify reversible causes of cognitive change. A low vitamin B12 led to regular supplements. A picture of Alzheimer-type dementia was confirmed. It was already moderately severe, with some frontal lobe disinhibition.
It was thought a brain scan would not add to our understanding, but an ECG was performed before prescribing donepezil. A letter summarising the findings, discussion at the clinic and plans for the future was shared with the GP and the couple.
Clara remains at home with Paul seven years later. When Paul was ill and required surgery, their daughter came to care for her. Clara is still mobile, but is regularly incontinent. Cognition is very limited and the disinhibition more marked. Paul does everything for both of them with support from his children, the ECF and others. Paul has power of attorney, with plans in place that Clara will continue to live at home unless matters determine otherwise. She will go to hospital only in particular circumstances.
Section 6: Evidence base
In the past four years, dementia has emerged from the shadows. The publication of the National Dementia Strategy (2009) was followed by the appointment of a dementia czar and a series of government-led initiatives.12
Although primary care has been criticised as the weakest link in dementia care, it is recognised as potentially the greatest strength in the recognition, investigation, treatment and support of these patients and their families.25
A system of incentives has been introduced to reward GPs for finding more cases of dementia. Hospitals have financial incentives to identify memory disorder.
Dr David Jolley is consultant psychiatrist and honorary reader, University of Manchester; Dr Susan Benbow is consultant psychiatrist and professor, Staffordshire University and Dr Ian Greaves is a GP in Stafford
References
Lishman WA. Organic Psychiatry. Oxford, Blackwell Science, 1978.
Ferri C, Prince M, Brayne C et al. Lancet 2005; 366: 2112-17.
OHE/Alzheimer's Society 2014. The trajectory of dementia in the UK - Making a difference.
Saunders A, Strittmatter W, Schmechel D et al. Neurology 1993; 43: 1467-72.
Kivipelto M, Helkala E, Laakso M et al. BMJ 2001; 322: 1447-552.
Cooper SA. Adv Psychiat Treat 1997; 3: 312-20.
Cohen C, Cohen G, Blank K et al. Amer J Geriat Psychiatr 2000; 8: 19-28.
Allen N, Burns A, Newton V et al. Age Ageing 2003; 33(2): 189-93.
Gibson G, Blass J, Huang H et al. Int Psychogeriat 1991; 3(2): 373-95.
DH. Living well with dementia: A National Dementia Strategy. 2009.
Banerjee S, Willis R, Matthews D et al. Int J Geriat Psychiatr 2007; 22: 782-8.
Greening L, Greaves I, Greaves N et al. Commun Pract 2009; 82: 20-3.
Jolley D, Greaves I, Greaves N et al. J Dementia Care 2010; 18: 26-9.
Lee L, Hillier LM, Stolee P et al. J Amer Geriat Soc 2010; 58: 2197-204.
Meeuwsen EJ, Melis RJ, van der Aa GC et al. BMJ 2012; 344: e3086.
Clark M, Moreland N, Greaves I et al. J Integr Care 2013; 21: 105-20.
NICE. Alzheimer's disease: donepezil, galantamine, rivastigmine and memantine (TA217). London, NICE, March 2011.
Lyle S, Grizzell M, Willmott S et al. Dementia Geriatr Cogn Dis 2008; 25: 226-31.
Banerjee S, Hellier J, Dewey M et al. Lancet 2011; 378: 403-11.
Banerjee S. The use of antipsychotic medication for people with dementia: time for action. London, DH, 2009.
Alzheimer's Society. Counting the cost: caring for people with dementia on hospital wards. 2009.
British Geriatrics Society. Quest for quality. 2011.
Sampson L, Harrison-Dening K, Greenish W et al. End of life care for people with dementia. 2009. www.mariecurie.org.uk
Robinson L, Vardy M. Care of people with dementia in primary care. RCGP, 2012.
Suggested further CPD activity
These further action points may allow you to earn more credits.
Review patients diagnosed with dementia and ensure risk factors such as hypertension and hyperlipidaemia are well controlled.
Develop a nurse-led screening clinic for early presentation of dementia and refer any patients identified for GP review.
Run an information forum for carers of patients with dementia.
This is an updated version of an article that was first published in September 2013.