In the past decade, a considerable and possibly confusing range of novel antidiabetic medications has become available for use in primary care. NICE has brought out guidance on type 2 diabetes in adults that includes an algorithm for glucose-lowering therapy (NG28).
Each oral treatment (except acarbose) can typically manage a reduction of the patient's initial baseline HbA1c of about 11mmol/mol to 22mmol/mol and none is clearly superior to others.
The results tend to be better in the beginning in patients with a high starting value. Further progress is limited for any agent after about six months of full-dose treatment. If there has not been a significant measurable improvement with a medication by that point, the patient can be regarded as a non-responder for this drug.
Response to GLP-1 analogues, DPP-4 inhibitors and pioglitazone varies significantly between individuals, and there is a considerable zero-response rate (possibly up to 40% for exenatide).
NICE advice
NICE's 2009 guidance stated:
Review pioglitazone and DPP-4 inhibitors after three to six months and stop them if the HbA1c has not been reduced by at least 5mmol/mol
Only continue GLP-1 analogue therapy if there has been a reduction of at least 11mmol/mol in HbA1c and at least 3% of the initial body weight in six months
In its 2015 guidance, NICE relaxed the restriction on pio-glitazone and DPP-4 inhibitors. However, not all practitioners or practices have protocols in place to trial, review and potentially dismiss the use of the more modern oral antidiabetics, and this has significant cost implications.
UKPDS findings
Findings from the UKPDS continue to emphasise the benefit of the 'legacy' effect of early, proactive treatment of well-established type 2 diabetes. It demonstrated that HbA1c sustained at about 7% (53mmol/mol) for six to nine years from diagnosis will have significant microvascular and macrovascular benefits.
However, beyond this, the outcomes are far less certain.
As soon as cardiovascular risk factors or macrovascular problems are apparent, control of HbA1c up to 69mmol/mol can be regarded as adequate for reducing macrovascular events, as long as lipids, BP and smoking are rigorously managed.
The UKPDS identified metformin as generally the best, most effective and safest first choice, with good evidence for additional cardiovascular benefit, which has not changed. It also remains the cheapest treatment, apart from lifestyle advice.
Combination therapy
Many oral antidiabetic medications can be combined, but there is a lack of studies to systematically examine combinations beyond triple therapy. In the 2015 guidance, NICE suggests 11 combinations, eight including metformin and three without metformin.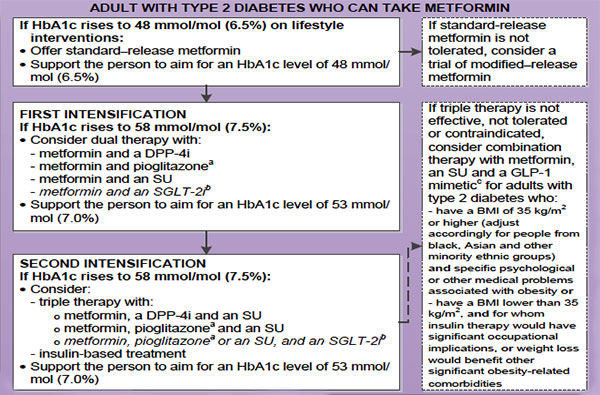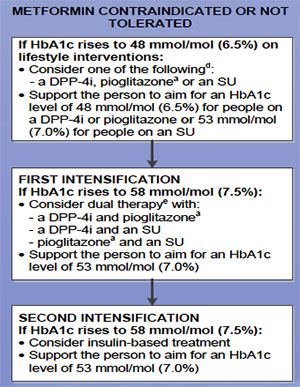 These are likely to be quite adequate for 80-90% of patients with type 2 diabetes.1
Fixed-dose combination tablets of metformin and other oral antidiabetic medications can be convenient to reduce pill burden and possibly increase the chance of medication compliance, but they may come at a price. For example, generic pioglitazone 15mg in a 28-tablet pack costs £1.19; in combination with metformin 850mg, a 56-tablet pack costs £35.89 (MIMS).
Diabetes in pregnancy
Only metformin and glibenclamide are possible non-insulin treatment options in pregnancy for a woman with established type 2 diabetes or in gestational diabetes, and all other oral antidiabetic medications and GLP-1 receptor agonists are contraindicated.
Other aspects
Acarbose is little used, owing to lack of efficacy and the high rate of intolerable side-effects.
Lifestyle advice for the typically overweight type 2 diabetes patient remains an important part of the overall and continuing treatment plan.
However, it is usually not a viable stand-alone option for well-established type 2 diabetes.
Previous explicit NICE advice on initial treatment for normal weight patients with type 2 diabetes (using sulfonylureas) appears to have been removed from the 2015 guidance.
Treatment options should be selected with the patient's involvement, to establish motivation, ambition and realistic scope in the context of their social and medical circumstances.
While the target to reduce micro- and macrovascular complications in type 2 diabetes is relevant, avoidance of therapy-induced complications (such as hypos) is equally, if not more, important.
This may mean there could be safer, better cardiovascular risk reduction outcomes by focusing on BP and cholesterol control, rather than too tight blood sugar control.
The aim of monotherapy is HbA1c of 48mmol/mol, except for sulfonylurea monotherapy, where the aim is 53mmol/mol.
If the HbA1c rises to 58mmol/mol, intensification/combination therapy should be considered to achieve 53mmol/mol if possible.
Table 1 lists practical points for currently used drug classes as an easy reference.
Dr Jacobi is a GP in York
Reference
1 http://annals.org/article.aspx?articleid=1033354