---
CPD & LEARNING

In this section we aim to bring together a wide range of resources to help meet your varied learning needs. You can also access the GP Curriculum Centre, where hundreds of articles are organised according to the RCGP curriculum, save your learning and notes in our free CPD Organiser, and test yourself at our new CPD website mycme.com.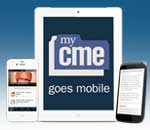 myCME is the digital medical education platform for CME and CPD from the publishers of GP and MIMS, and contains many of the GP clinical articles as exam-based CPD with a certificate of learning.
See the latest GP Clinical CPD on myCME.com or bookmark www.myCME.com/gp for later.
myCME is also available as an app
The myCME app is now available on iPhone, iPad and Android, and is free of charge to all healthcare professionals so you can complete your continuing medical education when away from your office or home computer. You can track your exam history, earn CPD credits on your device and collect, email and print your certificates of learning.
Currently myCME is available for healthcare professionals all across the globe. Follow the link below to visit the app stores or search for 'myCME' on your mobile device.
FEATURED CPD ACTIVITIES FROM MYCME.COM
This series of learning modules illustrates the problem of hypoglycaemia from different perspectives, including interviews with consultants, GPs and people with diabetes.
This activity differentiates insomnia from other sleep disorders and explains how GPs can help patients to manage the factors that cause it
This MIMS pocket guide provides an overview of the treatment of bipolar mania, with a focus on aripiprazole.
This GP pocket guide provides a guide to diagnosis and treatment of urinary tract infection (UTI) in women, including the role of nitrofurantoin.
myCME.com testimonial
I particularly enjoy the GP courses, as they are bite size and easy to digest. myCME has contributed significantly toward my next GP appraisal later this year. Not only am I enjoying the learning experience but I believe that the myCME courses have motivated me and I am confident that my appraisal will go without a hitch
Dr Julian Goldstone, GP, Berkshire, UK
This educational resource is designed to help you improve your management of solid organ transplant patients in primary care.
This activity provides a guide to the diagnosis and management of vitamin B12 deficiency.
This activity covers the diagnosis, management and prognosis of glaucoma.
Provides a detailed explanation of the unique mechanisms of action of SGLT-2 inhibitors
ARCHIVE OF CPD ARTICLES FROM GP

Earn 2.5 credits for 2.5 hours of learning activity and reflection based on each of the articles below
CPD ORGANISER

27 October 2011
Specific articles in GP magazine and online are labelled with CPD credits to help GPs with learning requirements for revalidation.
14 March 2013
Read this article to find out how to use the CPD Organiser for your continuing professional development and medical education. The CPD Organiser lets you add articles and pages from the internet, create notes, manage your learning in folders, claim C...
06 July 2012
Add any link from the internet to your CPD Organiser using a simple bookmark.

Earn 0.5 credits for 30 minutes of learning activity and reflection based on each of the articles below
LATEST NEWS ON REVALIDATION
16 April 2013
GPs are 'more ready' for revalidation than secondary care doctors but workload pressures mean they struggle to find time to take part in CPD, a GMC-backed report shows.

04 January 2013
GPC chairman Dr Laurence Buckman looks for reasons to be cheerful as a tough year looms for GPs. Marina Soteriou reports.
18 December 2012
GPC chairman Dr Laurence Buckman, who is one of the first doctors in the UK to have submitted his evidence for revalidation, says GPs have little to fear.
---
Additional Information
MIMS Drug Search
Possible searches include drugs (by brand, generic ingredient or drug class), diseases and more.