---
Health visitors can tackle child obesity, say doctors
01 July 2009
The BMA has called for health visitors to be trained to tackle the childhood obesity crisis.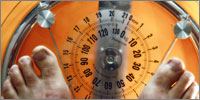 Dr James Parsons, a GP registrar in Sheffield, told the BMA's annual representative meeting on Tuesday that there was a growing body of evidence that 'interventions may be too late when children start school'.
This meant health visitors were the best placed to tackle the crisis, he said.
The conference backed the motion, which called for 'mandatory training in the prevention, recognition and management of childhood obesity'.

It also backed a second motion, which called for the link between individual health visitors and practices to be re-instated.

But the conference did not pass a clause which said that 'all families should have a named health visitor who delivers the majority of care to that family'.

Dr Rob Barnett, chairman of Liverpool LMC, argued that this would denigrate the role of GPs and practice nurses.

jonn.elledge@haymarket.com
Coverage from the BMA ARM 2009 in Liverpool
---
All the news from 1 July
'Grossly unfair' survey will strip millions from general practice
Majority of diabetes patients denied best quality care
Health visitors can tackle child obesity, say doctors
Partner notification essential in chlamydia, new guidelines say
Patients give practice nurses top marks in experience survey
BMA rejects call to guarantee asylum seekers free healthcare

---
Additional Information