---
MPs reject call to scrap Health Bill
By Susie Sell, 26 October 2011
MPs have voted to reject another call from the Labour party to scrap the Health Bill despite warnings that it is the 'longest and most incoherent suicide note in NHS history'.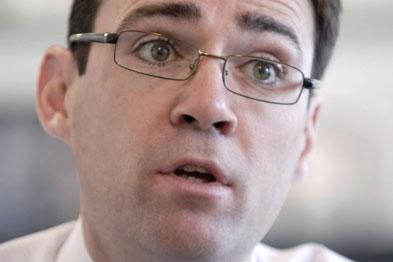 In a NHS reform debate on Wednesday in the Commons, shadow health secretary Andy Burnham attacked the government's reform plans, warning that the Health Bill will 'unpick the fabric of the NHS'.

He repeated his offer to the government that the Labour party would work with the government to establish clinical commissioning groups (CCGs) if the Health Bill was scrapped.

He said: 'A reorganisation is precisely the last thing the NHS needs right now. The government has picked up the pieces of the jigsaw and thrown them up in the air. Grip has been lost, the NHS is drifting.'
Liberal Democrat MP Andrew George (St Ives, Cornwall) also labelled the Bill the longest and most incoherent suicide note in NHS history.
But 307 MPs voted against the call for the Health Bill to be scrapped compared with 228 in favour.
In a tough-talking speech in the House of Commons, Mr Burnham also made a direct attack on David Cameron for breaking his election promise to end top-down reorganisations.
He said: 'The abandonment of this pledge [to stop down top-down reorganisations in the NHS] is the prime minister's biggest single mistake in office and if he ploughs on he will ultimately pay a heavy price.'

Mr Burnham also said the prime minister had U-turned on his promise to increase NHS funding in real terms. He said Treasury documents show NHS funding in 2010/11 has been reduced, outlining that this represents the first real-terms cut in health spending in 14 years.

He said: 'He and his honourable friends stood at the election with those airbrushed posters all around promising not to cut the NHS funding. But in their first year in office they delivered a real- terms cut to the NHS.'

But health secretary Andrew Lansley said the government has not ordered any cuts to the NHS in 2010/11.

He said: 'The amount of money available to the NHS in 2010/11 was exactly the same amount of money that was determined by the Labour party under its own plans.'
---
Additional Information